Last modified Mar, 01, 2017
Introducing ScaleArc
What is ScaleArc?
ScaleArc is the leading provider of database load balancing software. The ScaleArc software inserts transparently between applications and databases, creating an agile data tier that provides continuous availability and increased performance for all apps. With ScaleArc, enterprises also gain instant database scalability and a new level of real-time visibility for their application environments, both on premise and in the cloud. ScaleArc supports MySQL and Microsoft SQL Server databases.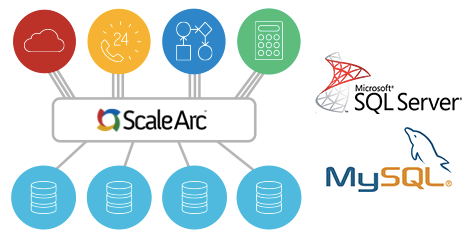 Audience for the guide
This guide is for system administrators and SQL administrators deploying and configuring ScaleArc on a virtual or physical machine, or on the supported cloud platform. If you are an administrator who works with a managed services provider or in a cloud environment, refer to the section Install ScaleArc on your environment for details on how to install for your particular provider.
For more information, refer to the whitepapers located at http://scalearc.com/resources/whitepapers. Readers should be familiar with general TCP network fundamentals, your environment's SQL implementation and the applications that are supported by them.